The success of our work depends upon strong partnerships with like-minded organisations who share our vision and mission in facilitating the growth of football for persons with disabilities.
The purpose of our cooperation is to work collaboratively and strategically for the development, growth and improved recognition of Para Football globally.
Partner International Federations
Para Football is working to create a network of international federations governing the different types of football for persons with disabilities. As recognised federations they contribute to the development of football opportunities and have goals that are aligned with the Vision and Mission of Para Football.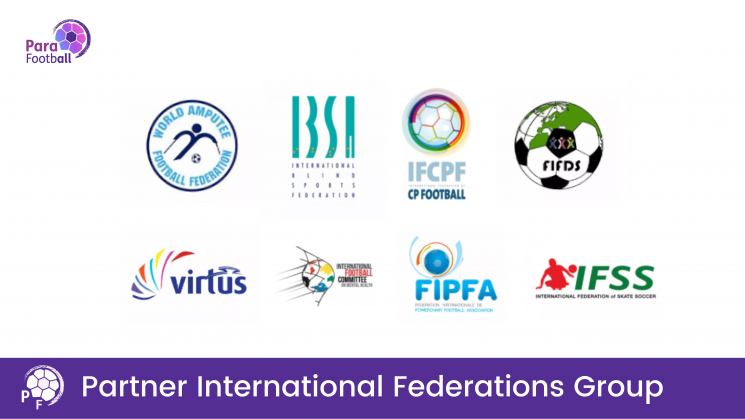 Role Model FAs
To support the development of Para Football worldwide, we are bringing together experienced national football associations/federations to provide good practice examples and showcase different ways of organising national para football programmes.
Para Football is delighted to be collaborating with leading football governing bodies from each world region. Our role model FAs have committed to partnerships with Para Football where they will support the international development of football for persons with disabilities and guide other nations on their journey.
Project Partners
We are delighted to be involved with some exciting projects, collaborating with key partners to develop opportunities for persons with disabilities and a more inclusive society through Para Football.
Operational Partners
Our operational partners are specialists within their area of expertise, providing direct support to our Para Football Units, assisting our stakeholders & network, and supporting the development of new programmes and initiatives. As an organisation, we have fantastic respect for our partner organisations and the wealth of knowledge, expertise and experience they contribute to the development of Para Football.