Amputee Football Player Nominated for FIFA Puskás Award!
For the first time in history, an amputee footballer has been shortlisted for the prestigious FIFA Puskás Award, awarded to the scorers of the most beautiful goals. Marcin Oleksy, a Polish amputee football player, scored an exceptional goal in the PZU Amp Futbol Ekstraklasa match, putting him alongside superstars Kylian Mbappé, Mario Balotelli, Alessia Russo and Richarlison in the shortlist for the highly coveted accolade. The winner will be announced at the prestigious FIFA BEST Football Awards ceremony in February.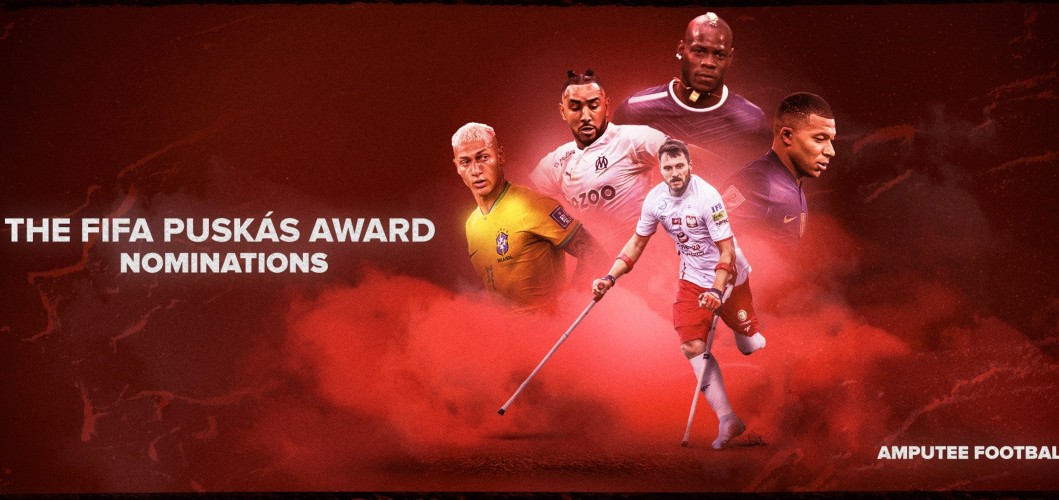 Oleksy lost his leg in 2010 when a car collided with him while he was working on road works. For the talented 23-year-old footballer, then a goalkeeper of the 3rd and 4th division, it was both life-changing and devastating. However, thanks to great determination and support from relatives, Oleksy returned not only to active life, but also to sport. He became a coach at a football academy, before embarking on his adventure with amputee football in 2019, a discipline that provides football for amputees and people with limb defects and which is growing exponentially across the world.
On recollecting the incident, Marcin commented: "I was sitting in a wheelchair, smoking a cigarette, crying and asking: why did this happen to me?"
"I find it hard to believe that I have now been nominated for a FIFA award! This is amazing and I still don't understand it" continued Oleksy, who quickly progressed from the amputee football league, to the Polish national team, and now a FIFA Award nomination.
"I am ecstatic with this nomination and I hope that it will help in the promotion and development of amputee football not only in my country, but across the world."
Despite difficult beginnings in 2021, while at amputee football team Warta Poznań, Oleksy was crowned the 'Newcomer of the PZU Amp Futbol Ekstraklasa Season'. In 2022 he made his debut in the Polish amputee football national team, with whom he first won the Amp Futbol Cup, beating England 4-0 in the final, before competing at the World Cup in Turkey.
Nomination of an amputee football player for the FIFA award is both special and unprecedented for amputee football around the world. It is the first time in the history of the competition that a representative outside mainstream football has made the shortlist.
Amputee football is a fast-developing sport. Teams already exist in over 70 countries around the world, with new ones joining every year. Continental Championships, World Cups and Champions Leagues are played regularly while club, junior and women's amputee football is quickly growing. Amputee Football works closely with UEFA, with well-known players such as Robert Lewandowski having worked with the European Amputee Football Federation to champion the sport. The finals of the Amputee Football European Championships and World Cups were watched by more than 40,000 fans at stadiums, with hundreds of thousands in front of TV sets and millions across social media.
Oleksy continued: "I am proud of this unique nomination and I would like to thank my team and the whole amputee football community, without whom this adventure would not have been possible! I invite the fans to vote for me, if of course they like my goal. It would be great to be able to personally represent amputee football at a FIFA Award Ceremony!"
From the 11 goals nominated this year, the final three will be selected by fans voting on the FIFA website, from which the committee will select the winner. The announcement of the winner of the FIFA Puskás Award 2022 will take place on 27 February during the FIFA Award Ceremony in Paris, which will be attended by the best players from around the world.
You can vote for Marcin Oleksy's goal by clicking here