Amputee football star Oleksy wins FIFA Puskás Award
Amputee football star Oleksy wins FIFA Puskás Award
Polish ace beats finalists Dimitri Payet and Richarlison to win coveted prize.
Polish amputee player Marcin Oleksy honoured with illustrious accolade
Winner revealed at The Best FIFA Football Awards on 27 February 2023
Award named after Hungarian legend Ferenc Puskás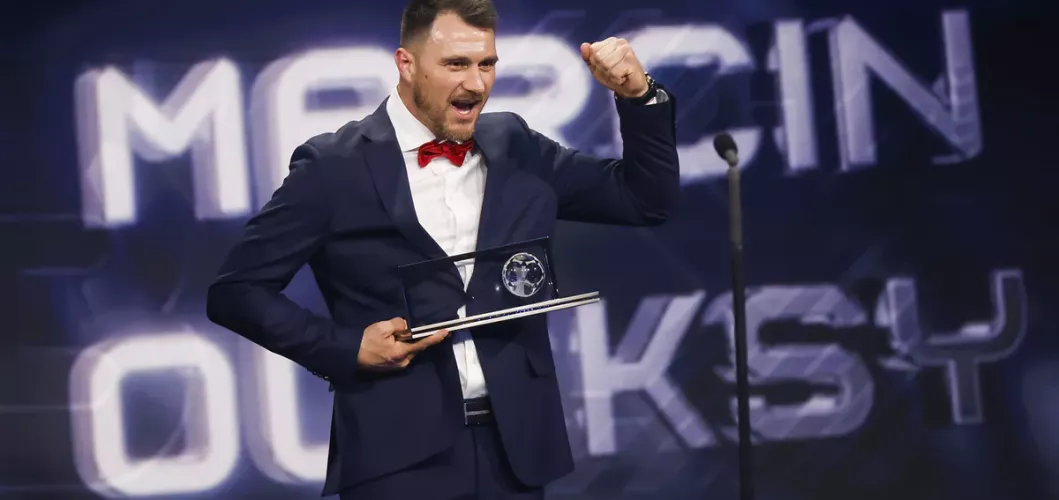 Amputee football star Marcin Oleksy has won the 2022 FIFA Puskás Award for his astonishing scissor-kick goal. The accolade recognises the year's most spectacular strike across men's and women's football, with Oleksy joining the likes of Cristiano Ronaldo, Neymar and Zlatan Ibrahimovic on the Puskás Award roll of honour. The Polish ace combined exceptional athleticism, imagination and technique to score with a jaw-dropping acrobatic effort in a game for Warta Poznan last November.
The Puskás Award winner was voted for by fans across world and expert panelists. Oleksy's strike came out on top in the voting ahead of stunning goals from finalists Dimitri Payet and Richarlison.
Oleksy's goal in his own words
"My team-mate Dawid [Novak] played the pass. When I saw him approaching the ball, I knew it was coming to me. I connected really cleanly. It was pure. When I hit it, I was following the ball all the way with my eyes and I saw it go into the corner of the net. I always wanted to score a beautiful goal. You could see how proud it made me after I scored. I stood up tall, I put my chest out. I was just so, so happy."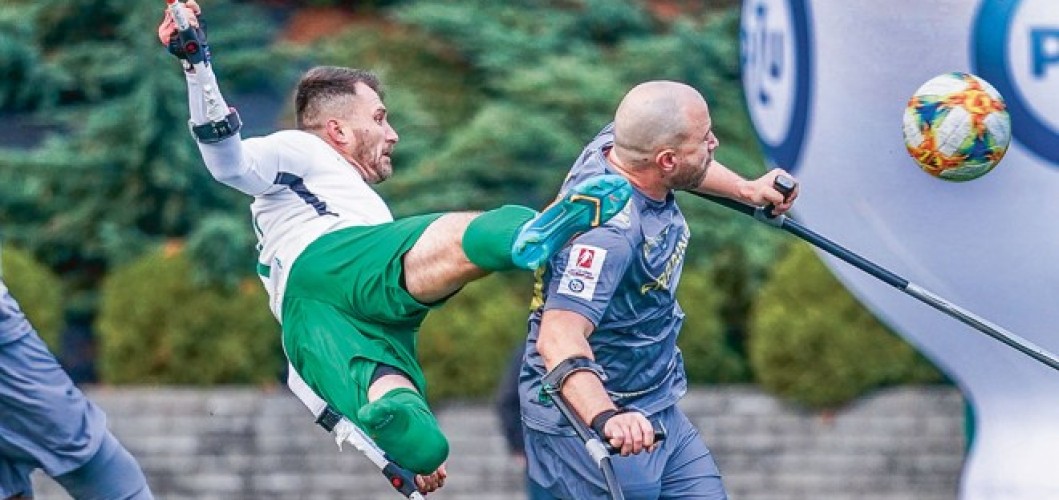 Oleksy's story: The day that changed everything
Construction worker Oleksy, now aged 35, suffered a life-changing accident on 20 November 2010. He was working to fill a hole in the road when a vehicle veered off track and into his path. The then 23-year-old's legs were crushed and, speaking to FIFA+ earlier this year, he revealed his immediate fears about "whether I would live or die". Oleksy drifted in and out of consciousness as he was rushed to hospital and continued to do so after receiving painkilling treatment at the facility. "Then, I woke up after the operation," Oleksy explained. "That is when I saw what had happened. That one of my legs had gone. It didn't make me feel sad. Maybe that was because, right after the accident, I saw how my legs looked, so I was somehow prepared for that."
The next steps
Oleksy was in a wheelchair when he was discharged from hospital and admits he found the adjustment extremely challenging – not least as his partner, Ewelina, was heavily pregnant. "It was really hard for me at the beginning because most of the responsibilities, my partner had to do," he said. "She was pregnant and I felt like I was another baby. I felt so bad because of this. She could not have time for herself, because she was looking after me. "I am so grateful for what she did for me. Thanks to her, I got back to being myself again."
A passion rekindled
Prior to his accident, Oleksy was a talented goalkeeper who idolised Real Madrid icon Iker Casillas. He didn't play for several years after losing his left leg but explained how a kickabout with his son, Tomasz, ignited his enthusiasm for the game again. "The first time I kicked the ball again was with my son and it made me really, really happy," said Oleksy, who also has a five-year-old daughter, Antonina. "It was also like a turning point for me. I started to train again and then I started to play amputee football." Oleksy soon began making a name for himself in the amputee football league and his exceptional performances saw him called up for the Polish amputee national team, where he has now firmly established himself as a key player.
His profile, of course, skyrocketed following his Puskás Award nomination and Oleksy revealed how his children have revelled in their father's new-found celebrity status. "They are very proud of me," he said. "My son's schoolmates were saying, 'We have seen your dad in photos with Kylian Mbappe, he is famous now!' I think they want me to get some autographs for them. I still can't believe I have been named among such players, such superstars. I hope they are also happy to be named alongside me!"
Recognition from a legend
In the midst of the Puskás Award public vote, Oleksy's countryman Robert Lewandowski – two-time winner of The FIFA Best Men's Player award – posted a message of support for him on social media. "It was so nice to be mentioned by Robert," Oleksy says. "I am very proud. In Poland, many people love Robert and look up to him. He has been an ambassador for Polish amputee football for a couple of years. He's supported our football for a long time."
Stronger than ever
Oleksy is hopeful the publicity amputee football has gained from his Puskás Award nomination – and subsequent triumph – can elevate the sport to new heights. "I hope the world can see we are doing what we love to do," Oleksy said. "I am so happy for the sport. I feel that it was not just me who scored the goal, but the whole amputee football family scored the goal together." His story is one of perseverance and courage in the face of devastating personal circumstances. Oleksy opened up on how his unwavering positivity has helped guide him throughout his inspirational journey. "After the accident, my life could have gone in a totally different direction," he said. "It could have gone badly, but I became stronger. I know I can deal with any problem. It has been a lesson for me, and I have survived this lesson. Maybe it sounds stupid, but I am happy without my leg and I am happy in life."
How the FIFA Puskás Award winner was decided
The Puskas award is named in honour of Hungary and Real Madrid icon Ferenc Puskas, who won three European Cups with the Spanish giants in the 1950s and 1960s, and was a World Cup runner-up with Hungary in 1954.
Eleven goals were initally nominated for the prize, and each voter made their first, second and third choices for the prize.
Points were given to nominees depending on where they were placed (five points for first, three for second and one for third).
Votes were cast from supporters across the globe and expert panellists.
Selections from the two voting groups – fans and expert panelists – each counted for 50 per cent of the total vote, irrespective of the number of voters from each group.
The Puskás Award was presented to the individual with the most points.
The voting procedure for the Puskás Award was supervised by independent observers.