Enjoying Walking Football together for World Autism Awareness Day
Enjoying Walking Football together for World Autism Awareness Day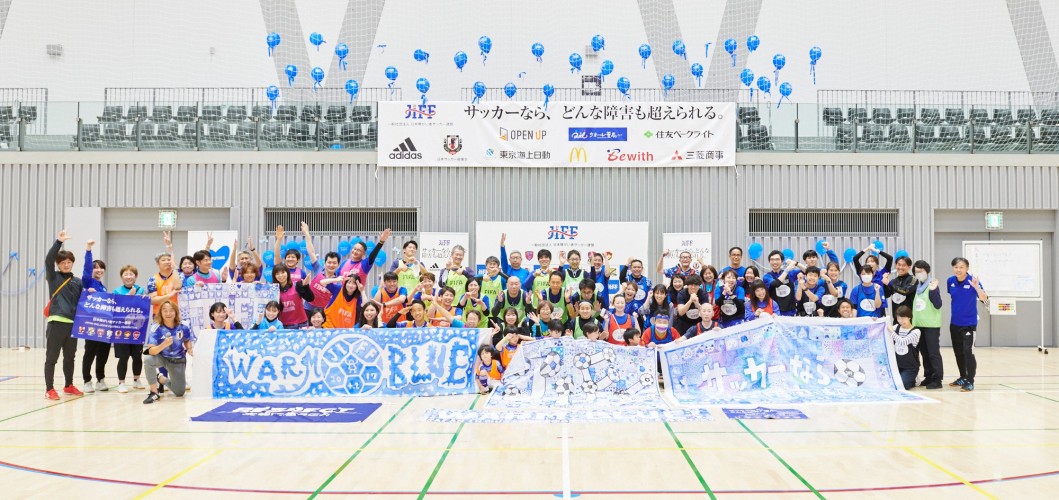 On Sunday 2nd April, in honour of "World Autism Awareness Day", the Japan Inclusive Football Federation held an event at Musashino's Mori Sports Plaza, where for players to enjoy walking football together regardless of disabilities or gender!
The event was held as part of the "Warm Blue Campaign" that is held in Japan as an opportunity to have fun with people, not only those with autism but also with different disabilities and backgrounds to have fun. JIFF has been participating in the campaign for the past 7 years since its first year in 2016.
The event was supported by 85 people including members of the Tokyo Inclusive Partnership Conference (Tokyo Football Team, J League Club, F League Club, WE League Club, Nadeshiko League Club, etc.) and JIFF partner companies. Participants wore the theme colour for World Autism Awareness Day, "Blue", and enjoyed the four programs such as "Mazekoze Walking Football", "Blue Photography", "Blue Flag Making", and "Kifting"!
Kifting will raise "11,424 yen" from the lifting challenge and donate it to the Tokyo Autism Association.
About JIFF
JIFF is a related organization of the Japan Football Association (JFA). Promoting the realization of the vision and the strengthening and dissemination of football for people of disabilities. JIFF is committed to governing and developing the sport of football in line with their respective mission and objectives and collaborate with Para Football.
Founded in April 2016, JIFF was the world's first affiliated national football federation dedicated to persons with a disabilities.
Find out more about the Japan inclusive Football Federation (JIFF) here