West Asia #FootballForAll Festival
West Asia #FootballForAll Festival
Para Football and the West Asian Football Federation are preparing an exceptional event which is the first of it's kind, holding a #FootballForAll Festival for persons with disabilities from December 2nd to 3rd, 2022 in the Jordanian capital of Amman.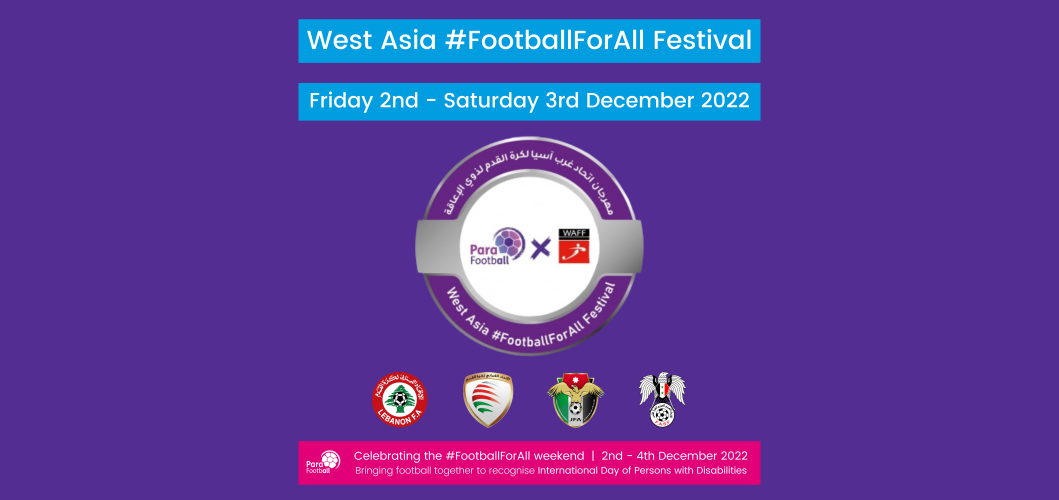 Buidling upon the collaboration between Para Football and the West Asian Football Federation (WAFF) which has seen the delivery of online education and development workshops, this event brings the first face-to-face and on the field activity as part of the partnership. Click here for more about the partnership.
This development programme is introducing and setting a foundation for Para Football in the region, ensuring opportunities for every persons with disabilities to play football. Our aim is to establish the #FootballForAll festival as a regular event for the West Asian countries, with development programmes within each nation to create long-term sustainable playing opportunities.
This programme also forms the starting point for the introduction of specific adapted football formats such as Amputee Football, Deaf Football and CP Football, amongst others. Find out about the different ways to play here
The federations of Jordan, Syria, Lebanon and Oman will participate in the festival, which will be held in cooperation with the WAFF, the Jordan Football Association (JFA), the Jordanian Paralympic Committee, and within the Asian Football Confederations' (AFC) Dream Asia programme.
The festival targets people with disabilities in all its forms and the age group 16 years and above, and will witness many events over two days, including various skills development activities on the field, small-sided matches (5v5), as well as a closing ceremony with honouring the participants.
On the sidelines of the festival, Para Football and WAFF will deliver two workshops. The first for football coaches working with players with disabilities, which includes topics related to the practical organisation of coaching and organising events, also providing theoretical information in the classroom.
The second workshop will be on disability-inclusive safeguarding to learn about the foundations and standards of maintaining the safety of children and adults with disabilities.
The Secretary General of the West Asian Federation, Khalil Al-Salem, stressed the importance of the festival, as it is dedicated to a group that deserves all support and appreciation within societies, and comes within the important concepts of the righst of people with disabilities to practice football and sports in a safe and sound environment.
Al-Salem pointed out that the West Asian Football Federation is keen to organise this festival, the first of its kind, based on the fact that football for all without exception, fulfills its responsibility towards people with disabilities within the communities in the region, by providing an opportunity to satisfy their desires to practice football and discharge their energies healthily through sports.
The Secretary-General praised the role of all parties that expressed their support for the festival, as well as their interaction with this pioneering event, which carries important humanitarian and community goals, stressing the importance of continuing to give people with disabilities full care and work to meet their rights.
About the #FootballForAll Festival programme
Prepare
Knowing that football for persons with disabilities may be relatively new to most of WAFF's member associations (MAs), in particular the pan-disability format, Para Football and WAFF are providing a comprehensive package of support to ensure attending delegations are prepared for the event and development activities in their own countries.
Guidance - Disability Inclusive Safeguarding
To support MAs to prepare their team and staff we have provided the following documents, available in both English and Arabic. These documents provide an overview of planning, procedures and expectations of everyone involved in the event.
West Asia #FootballForAll Festival Event Safeguarding Guidelines

West Asia #FootballForAll Festival Safeguarding Code of Conduct
Webinar - Disability Inclusive Safeguarding
Online preparation webinar to outline event safeguarding provisions, and expectations of MAs and answer any questions ahead of the event.
Volunteer Orientation
Information and training for event volunteers supporting with delivering the #FootballForAll Festival.
Play - Safe, Fun and Learning
Day 1 of the #FootballForAll Festival will see all teams take part in skills sessions, developing their technical football skills but also their social, emotional and psychological development.
Bringing together players from different nations to play side by side within each of the acitvities supports players to meet new people, make new friends and enjoy positive football experiences together.
Compete - Play Together, Win Together
On Day 2 of the #FootballForAll Festival, players will take part in a 5v5 small-sided game competition through a round robin format. Giving each nation the opportunity to play with each of the other countries will let them experience competitive matches in a fun and enjoyable football environment.
Celebrate - #FootballForAll Celebration
At the end of the second day, the #FootballForAll Celebration will bring all teams and representatives together with a number of awards presented to teams and individuals to celebrate the achievements of players with disabilities.
Train
Coaching Para Football Course
Para Football will deliver a coaching course throughout two days of the festival. Coaches will be involved in the practical delivery of the skills sessions on day 1 and the small-sided matches on day 2, along with two theory workshops.
Workshop - Coaching Para Football
This workshop will provide classroom-based coaching information, understanding of disability, development of communications skills and how to plan safe, positive and inclusive sessions.
Workshop - Disability Inclusive Safeguarding
This workshop will cover Disability Inclusive Safeguarding practice and how we all have a role to play in providing a safe, positive and inclusive football environment.