What is Deaf Football?
Football is one of the most prestigious and popular disciplines of sports for the deaf. Football included in the programme of the summer Deaflympics since their inception – in 1924. World Championships have been held since 2008.
Currently, every 4 years the football of the deaf hosts the world Championships, regional Championships and soccer tournaments in the summer Deaflympics. The competition is held in Junior (U18, U-21) and adult categories among men and women.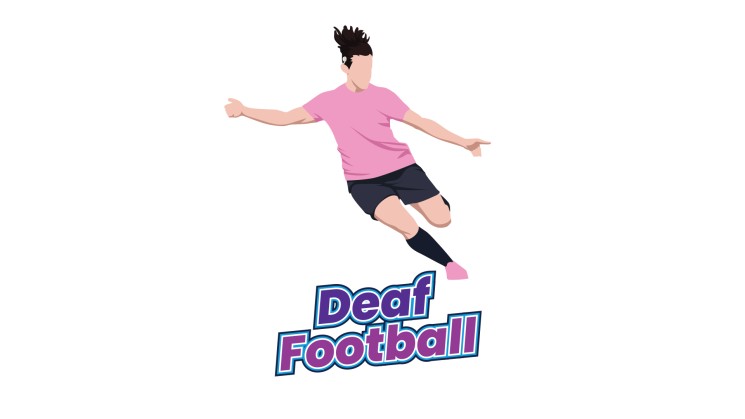 To ensure football is inclusive of players with different levels and types of hearing loss, deaf football provides deaf specific opportunities for players through both football (11-a-side) and futsal (5-a-side). Deaf footballers can also play within mainstream football.
Who can play?
Only deaf and hard of hearing athletes can compete in sanctioned competitions.
Sport Rules
Football
Deaf Football is played to the IFAB Laws of the Game in exactly the same way as with FIFA, with some modified competition rules.
Futsal
Similarly, Deaf Futsal is played to the FIFA Futsal Laws of the Game, with some modified competition rules.
Classification
Within deaf-specific competition, all players must have a hearing loss of 55dB minimum in their better ear to qualify to play.
Players must remove any kind of hearing aid(s)/amplification or external cochlear implant parts to compete in deaf specific football, as the use of amplification in sports gives an advantage over those not using it.
Outside deaf specific competition, it is recommended to allow the individual to choose whether they use any hearing aids whilst playing football.
There are four (4) types of audiogram testing which must be conducted for each ear including:
Air Conduction - * 250Hz–8kHz
Bone Conduction - * 500Hz, 1 kHz, 2 kHz and 4 kHz
Tympanograms (Tympanometry) - Volume, Pressure, Compliance
Acoustic Reflexes (Reflexometry) - Ipsilateral, Contralateral
International Federation
About DIFA
Member of the Para Football Steering Board
The Deaf International Football Association (DIFA) is the international federation governing the sport of Deaf Football, dedicated to empowering persons who are deaf to play football. DIFA is committed to governing and developing the sport of Deaf Football in line with their respective mission and objectives and collaborate with Para Football, and partner international federations, in facilitating the growth of football for persons with disabilities.
DIFA works in cooperation with the International Committee of Sport for the Deaf (ICSD) for the development of Deaf Football.