What is Skate Soccer?
Skate Soccer is a truly exciting sport and the first of its kind. The sport is played by persons with physical disabilities, especially polio survivors. In this game, polio survivors sit on a slightly larger skateboard and play an adapted format of football.
The ball is controlled by their hands and the rules are similar to regular football. The most appealing thing about this sport is the incredible talent that the players bring onto the field of play. They are able to overcome their challenges to play a sport that leaves spectators on the edge of their seats.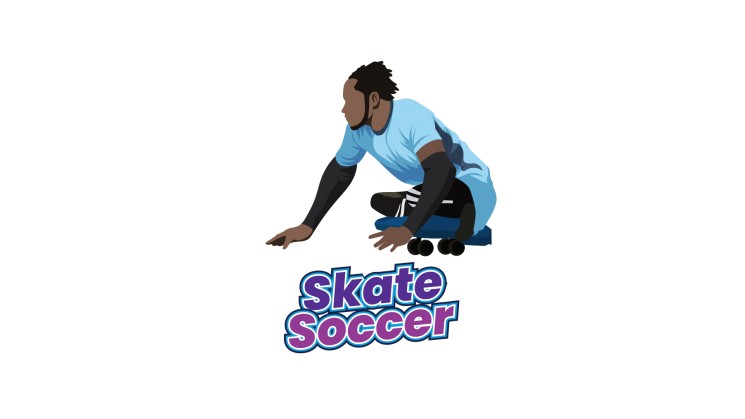 Who can play?
Players must have a physical impairment causing an activity limitation in playing football. The game has been created for those players who are affected in their lower limbs and able to move around using skateboards.
Sport Rules
Modifications to the FIFA Futsal Laws of the Game
The Sport is governed by the IFSS, following the Futsal rules of FIFA with modifications. Instead of running, players use specially designed skateboards, and they use their hands to move and strike the ball.
An adapted format of football/futsal, Skate Soccer was created in Accra, Ghana in 2007. The idea was to use sport to help beggars with physical impairments get off the streets, particularly those Polio survivors. Known worldwide as the beautiful game, football/soccer was chosen as the game to change lives.
Some of the adaptations
6-a-side
A match lasts two equal periods of 20 minutes
Field of Play same as Futsal - Length: 40m Width: 20m
Use a standard football not a futsal ball
The term 'kick' is replaced with 'hit', reflecting the use of players' hands instead of feet.
Classification
Skate Soccer currently has one Sport Class
IFSS defines that for the sport of Skate Soccer, sporting opportunities are provided for athletes with the following eligible impairments that affect the lower limbs:
Impaired muscle power
Limb deficiency
Leg length difference
Hypertonia
Ataxia
Athetosis
Impaired passive range of movement.
International Federation
About IFSS
Member of the Para Football Steering Board
The International Federation of Skate Soccer (IFSS) is the international federation governing the sport of Skate Soccer, dedicated to empowering persons with physical impairments to play football. IFSS is committed to governing and developing the sport of Skate Soccer in line with their respective mission and objectives and collaborate with Para Football in facilitating the growth of football for persons with disabilities.