JIFF Inclusive Football Festa
JIFF Inclusive Football Festa
The Japan Football Federation for the Disabilities (JIFF) held the JIFF Inclusive Football Festa 2021 for the first time online and face-to-face on Saturday, December 25, 2021.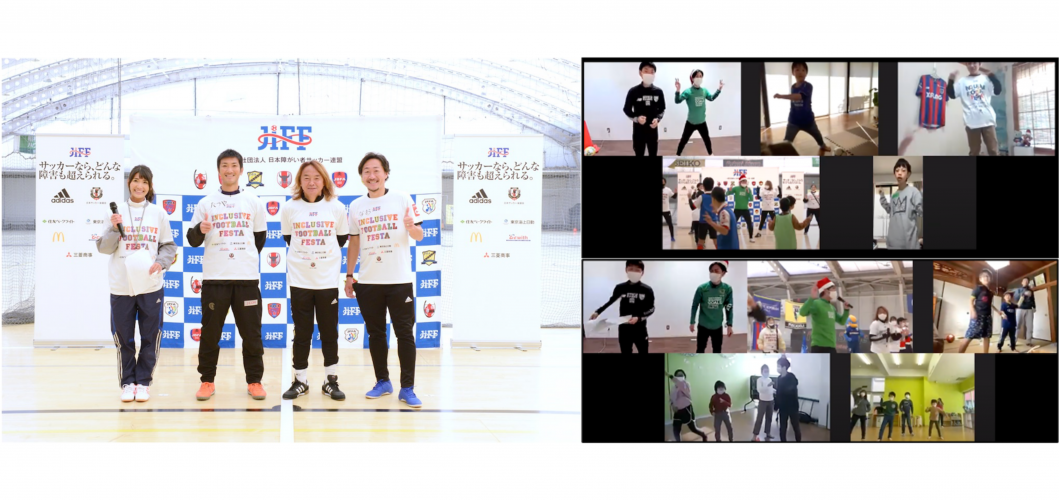 This event is for children with disabilities and healthy children to interact through soccer to create mutual understanding opportunities.
It was held in December every year since the first year (2016) when JIFF was established, and this was the sixth time. On the day of the event, 248 people including face-to-face participants, online participants, and visitors participated.
"As a parent, I applied because I wanted my child to know that he could enjoy soccer with his friends regardless of whether I have a disability, and the 8-year-old child participated and felt exactly that way. He said."It was fun! I'll definitely participate again next year!" It seems that he was also happy that soccer players and team coaches taught him, played games together, and received a lot of souvenirs." - Parent
Part 1 and Part 2 Mazekoze Soccer
Part 1 and Part 2 carry out "Inclusive Football" as an activity that moves everyone's body. On the court, coaches of clubs in Tokyo, soccer players with disabilities, guest Naohiro Ishikawa (FC Tokyo Club communicator), and JIFF Chairman Go Kitazawa explained dance and ball feeling. After that, we dribbled and shot with the coach face to face, and the children who participated online also shot in the house so that they could hit the plastic bottle as a landmark.

At the end of the first and second parts, we conducted a program that makes use of each characteristic in person and online. In the face-to-face, both disabled and healthy children organized a mixed team and played the game. Online, guests who were at the venue appeared in the online distribution booth and enjoyed remote interaction with guests, such as asking questions directly to Mr. Kitazawa, Mr. Ishikawa and Okamoto, and teaching me tips for dribbling and shooting.
"Everyone can enjoy football depending on the rules. I thought that it would be a good opportunity to communicate with people I met for the first time, regardless of whether they have disabilities or not, and to expand the range of new friendships and people." - Participant
Part 3: Mixed Walking Football
In the third part, regardless of disability, age, gender, etc., we organized a mixed team and played walking football (football). In the progress of Amor Tokyo, who regularly promotes walking football, we confirmed the rules of walking football and the "compassionate feelings" that should be cherished in the game. After warming up the mind and body, 6 teams played a brut-robin match. According to the characteristics of the players' disabilities, you can see scenes unique to inclusive football, such as using sounding balls and large balls, and scenes where participants help each other and heading to the goal.
"It was fun to form a team and play soccer with people with different characteristics." - Participant
This year, as a new initiative, we will hold "Tokyo Inclusive Collaboration Conference" multiple times, and in advance, J-League Club, J-League Centennial Concept Club, F-League Club, WE-League Club, Nadeshiko-League Club, and Disability football teams and organisations. We have been working on building a network and a collaboration system between the team. As a result of one of the initiatives, clubs, teams and organizations participated in the JIFF Inclusive Football Festa 2021 at the end of the year more than usual year, and from the planning stage, we created an event together as "Team Tokyo".
There has been a big change in the sports environment due to the COVID-19 pandemic, but not only the organizers and co-sponsor, but also cooperating clubs and organizations have been holding it because they want to tell them that they can enjoy together and have fun with the participants. On the day of the event, we were able to meet face-to-face and a lot of smiles online, and we felt the power of sports again.
I would like to express my gratitude to everyone who sympathized with the purpose and cooperated, and everyone who participated in the event.
JIFF will continue its activities with the aim of creating an environment where everyone can enjoy sports anytime, anywhere through football.
Comment from JIFF President Tsuyoshi Kitazawa
"JIFF Inclusive Football Festa was able to celebrate its sixth time safely. At the beginning of 2016, which was held for the first time, it was a very unprecedented initiative, and there were many groping places, but I think that various challenges are repeated every year, and the awareness and reflection gained there have been made full use of the next year. And as the event grows, I am very happy to feel that the "feeling of challenging" and "considered for others" among the children who participate continuously every year are definitely stronger than before. In the past six years, the inclusive efforts made by the clubs in Tokyo have spread more and more, and I am surprised that the level of guidance and support of coaches involved in the event is very high now. This kind of growth of staff and coaches leads to a good atmosphere, and the overall performance of the participants including children may have changed along with that.
This time, it was held in a hybrid form, including both face-to-face and online, but in terms of aiming for an event that everyone can participate in, it is possible to interact online with distant children and those who have difficulty visiting the venue. I feel that it was very good. On the other hand, I think it's also very meaningful to hold it face to face after taking measures against infectious diseases. There is always something that can only be obtained by meeting and interacting in person, so I would like to cherish both aspects as much as possible in the future. Also, after the end of the Tokyo Olympic and Paralympics, I feel that holding an inclusive event as Team Tokyo will affect other sports organizations. We will continue this activity to create an environment where everyone can enjoy sports anytime, anywhere.
Partner companies that support this project on a daily basis and support this initiative, 7 football organizations for people with disabilities, FC Tokyo, FC Machida Zelvia, Clearson Shinjuku, Tokyo Verdy / Nippon TV Tokyo Verdy Beleza, Suffy Dasedagaya FC, Fugador Sumida, Pescadola Machida, ESPERANZA, FC Aubolada, CA SOLUA, Papelecial Shinagawa, The Nippon Care-Fit Education Institute, Toin Yokohama University, Media, and all others I would like to express my sincere gratitude to everyone involved in. We look forward to your continued support for the Japan Inclusive Football Federation, which are working to realize a symbiotic society."
Cooperating clubs:
J-League Club: FC Tokyo, FC Machida Zelvia, Tokyo Verdy
F-League Club: Fugador Sumida, Pescadola Machida
WE-League Club: Nippon TV Tokyo Verdy Beleza
Nadeshiko-League Club: Sfida Setagaya FC
J.League Centennial Concept Club: Criacao Shinjuku
Disability football teams and organizations: ESPERANZA, FC Avolada, CA SOLUA, Papelecial Shinagawa
JIFF - Role Model FA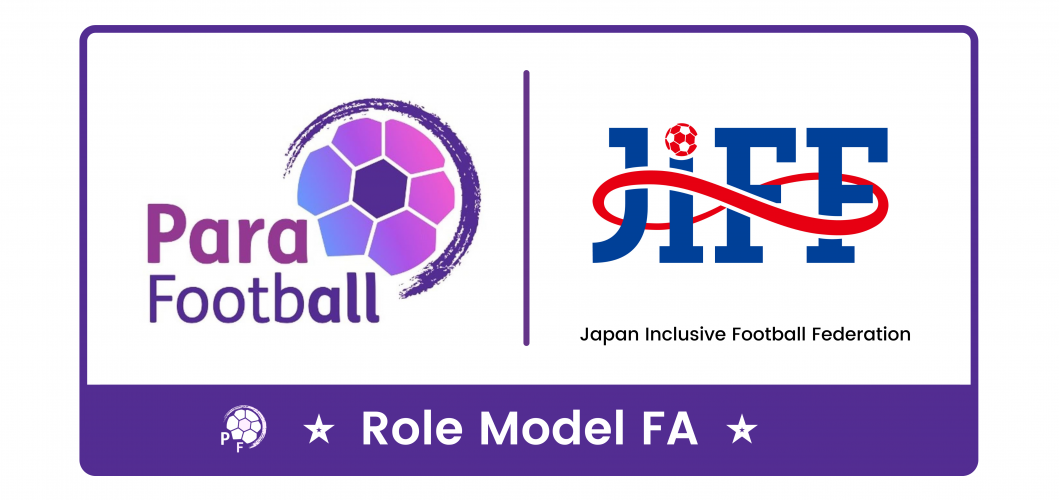 The Japan Inclusive Football Federation (JIFF) are both a Para Football Affiliate FA and Role Model FA. In their appointment as a Role Model FA, JIFF's good practice is shared with the Para Football Affiliate FA network to support national Para Football programmes all over the world in their development of football for all opportunities.