Para Football welcomes JIFF to the Affiliate FA network
Para Football's first Role Model FA, the Japan Inclusive Football Federation (JIFF) formally joins the Para Football Affiliate FA network. Together we hope to grow the worldwide connection and collaboration for the development of Para Football.
From JIFF:
"Following the cooperation agreement with Para Football in March 2021, It is honour to be an affiliate FA. JIFF keeps contributing to promotion of football for people with disabilities, not just in Japan, also other nations."
Para Football Affiliate FA programme:
Para Football works in partnership with National Football Associations worldwide. These collaborations are focused on a shared vision and passion for ensuring every person with a disability can participate in football on an equal basis with others.
Affiliate FA's benefit from unique networking opportunities, increased visibility of their work on a global level, new funding streams, and strategic partnerships.
As a Para Football affiliate, FAs can contribute to the promotion and development of the participation of persons with disabilities in football while also benefiting from the knowledge and experience of our network.
About JIFF
"JIFF attempts to create an inclusive society through football that ensures equal and active participation for all, where everyone, regardless of his or her disabilities, is able to benefit from the joy of sports."
JIFF was established on April 1st, 2016 with the aim of creating an inclusive society through football. As an affiliated member of Japan Football Association (JFA), JIFF functions as an intermediary body and works in conjunction with its 7 member associations to create an environment where anyone can enjoy football anytime, anywhere.
Japan Amputee Football Association
Japan Cerebral Palsy Football Association
Japan Social Football Association
Japan Football Federation for Persons with Intellectual Disability
Japan Powerchair Football Association
Japan Blind Football Association
Japan Deaf Football Association
JIFF - Key achievements:
Wearing a common uniform for all Japan national disability football teams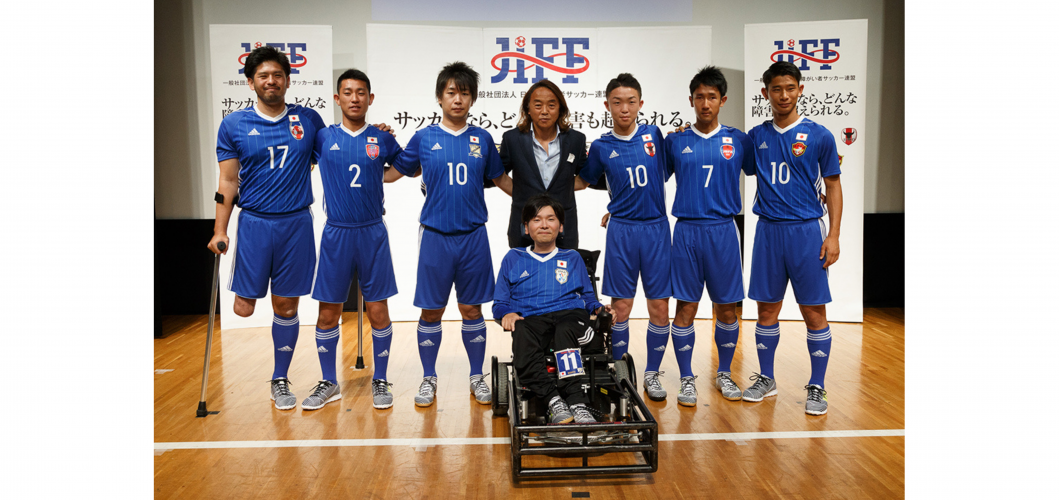 In 2017, the year after JIFF was established, JIFF enabled that all Japan national disability football teams can wear a common uniform. Until then, the 13 categories of Japan national disability football teams wore different uniforms.
In 2020, Olympic men's team, Olympic women's team and Paralympic 5-a-side Football team wore the same uniform. The uniform becomes an icon of all Japan.
Regional Cooperation Meetings of disability football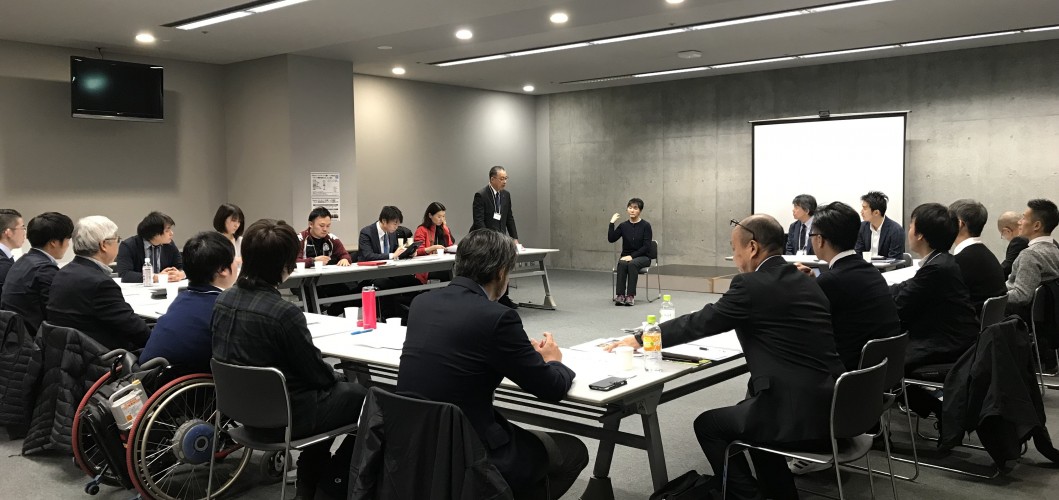 Since 2019, JIFF has been holding regional cooperation meetings of disability football in order to build a disability football network in the region and promoting disability football activities. When the meeting started, no network was in region at all. In 2021, 29 out of 47 prefectures have created disability football organizations or conferences to promote regional cooperation. Prefectural football associations, local disability football teams, professional football clubs, and so on, participated in the meetings.
Inclusive Football Festa
JIFF's Inclusive Football Festa has been held annually since 2016. This festa aims to make participants have a positive learning experience and bridge the gap between the disabled and non-disabled through football. The festa consists of different activities that can be enjoyed by all participants regardless of age, level of football skills or past football experience: (1) Inclusive Football (for players under 12), (2) Walking Football. Since 2019, the event has spread nationwide such as Hiroshima, Ibaraki, and Kanagawa, and prefectural football associations, local disability football teams, professional football clubs,etc. are cooperating with them.
Providing opportunities for instructors to learn about disability football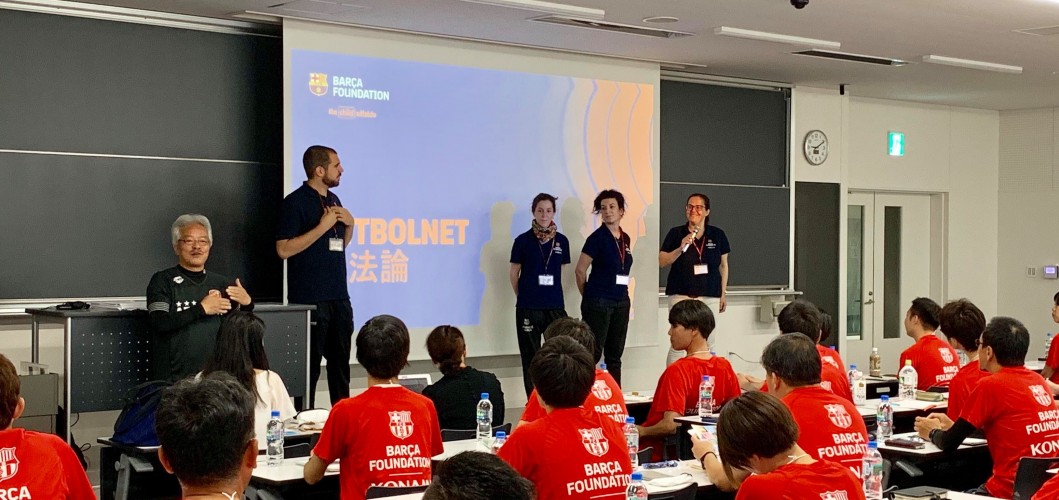 The key in creating the environment where anyone can enjoy football anytime, anywhere is coaches. Thus, JIFF provides the opportunities to coaches who register with the JFA in order to make coaches learn about disability football. Not only that, JIFF has works together with the Barca Foundation to invite coaches from the foundation to organise a disability-specific training course for football coaches through "FutbolNet". It is a methodology developed by Barca Foundation which aims to support the most vulnerable in our society – persons with disabilities as well as children who are exposed to the risk of violence, racism, and poverty – through developing an inclusive society using sports as a medium.
Financial Assistance Programme for the Hearing-Impaired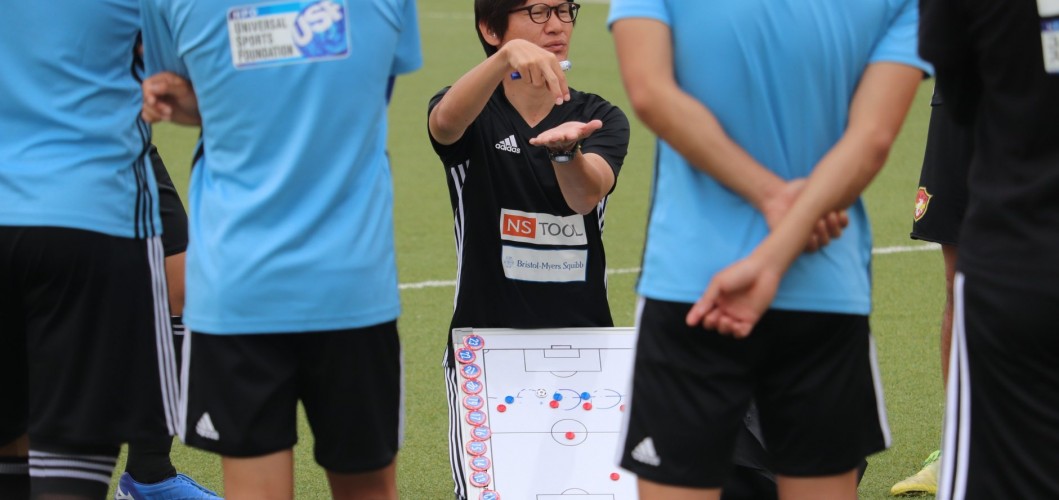 In order to ensure equal opportunities for people with a hearing impairment to participate in workshops hosted by JFA and its regional FAs, JIFF launched a financial assistance programme in 2018. The programme helped people engage in football activities without having to bear the financial burden of arranging sign language interpreters. JIFF provides offer financial assistance to people with a hearing-impairment in order to arrange sign language interpreters at JFA's football and futsal instructor workshops and referee workshops.
AFC Dream Asia Awards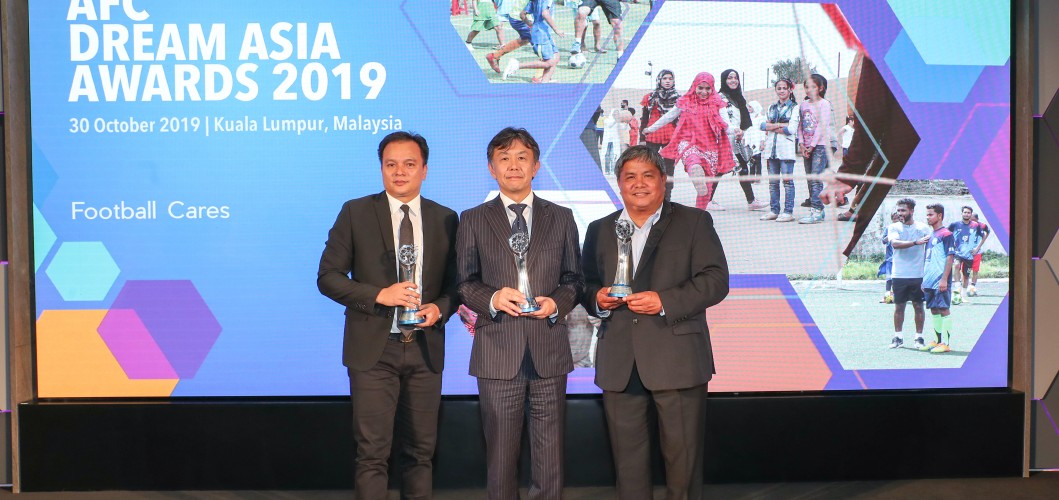 In 2019, JIFF was recognised by the Asian Football Confederation in the NGO Category of the AFC Dream Asia Awards for organizations and individuals who engage in social contribution activities through football. JIFF were presented with a gold award for their incredible strides, growth and efforts to use football as a powerful tool for social development.
The role of JIFF:
Under the leadership of President Mr. Tsuyoshi KITAZAWA (a former Japan national football player), JIFF provides its 7 member associations with a platform to utilise JFA's resources, and acts as a collective voice to promote inclusive football in Japan. It also helps identify issues prevalent in inclusive football, and provides technical as well as organisational support to its member associations.
JIFF offers support in the following areas:
Support for 7 member associations
Create an environment where anyone can enjoy football anytime, anywhere
Create an inclusive society