Bangladesh growing Football for All as an Affiliate FA
Bangladesh growing Football for All as an Affiliate FA
Bangladesh Para Football Federation joins Para Football as an Affiliate FA to become part of the worldwide network of football for persons with disabilities.
Para Football works in partnership with FAs worldwide. These collaborations are focused on a shared vision and passion for ensuring every person with a disability can participate in football on an equal basis with others.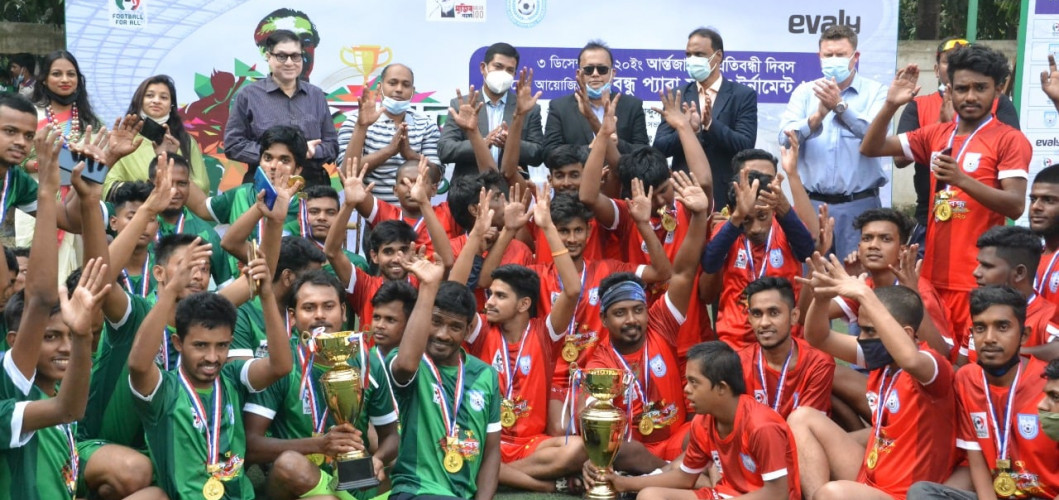 Journey so far
In December 2018, ARDRID (a local organisation for the rights of persons with disabilities) and the BFF hosted a Cerebral Palsy Football coaching course delivered by the International Federation of CP Football.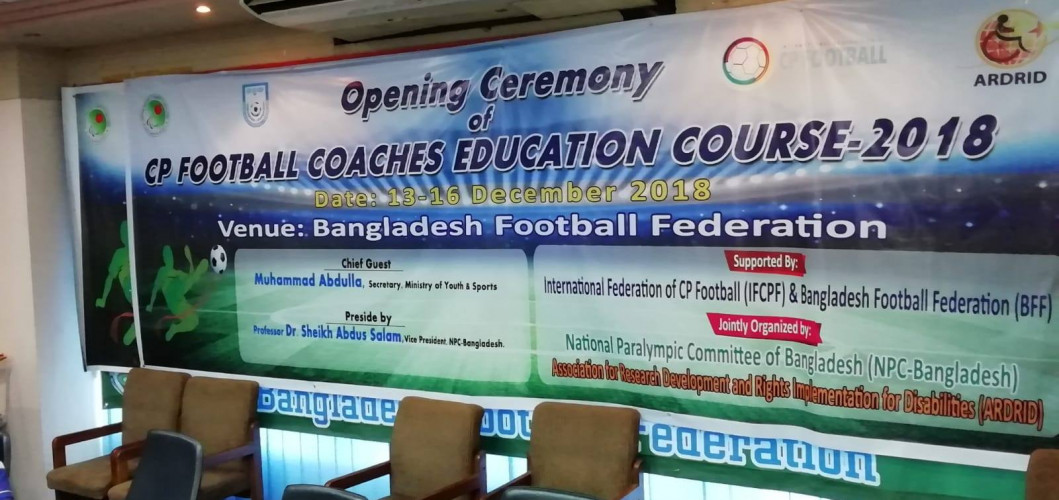 Following the creation of a national federation to develop CP Football (the Bangladesh CP Football Association), the Bangladesh Para Football Federation was formed to grow further football opportunities and bring unity across all formats of the game.
In 2021, both the Bangladesh Amputee Football Association and the first Bangladesh national team for amputee football were formed. The hosting of the 2022 East Asia Amputee Football Championships, as qualifier for the 2022 WAFF World Cup, formed a vital tool to recruit players and bring profile to the game in Bangladesh.
Although Bangladesh did not qualify themselves, their team put on a superb football display stamping their place as an exciting developing nation in the world of amputee football.
Mr Md. Badiuzzaman Al-amin, the founder of Bangladesh Para Football Federation and driving force behind all Para Football in Bangladesh, is building on the legacy of development activities so far to ensure future development of football for all.
Future activities include the development of an academy which provides playing opportunities for all players with disabilities, and the development of programmes for Down Syndrome Football, Deaf Football and Blind Football.
Md. Badiuzzaman Al-amin, Founder & Secretary of Bangladesh Para Football Federation shared his dream:
"Bangladesh is one of the most populous countries in the world, where children and youth with disabilities live through various obstacles due to many challenges. They aren't being able to participate in the mainstream of development, which is very painful.
I think para football can be one of the most important tools that can bring these neglected and helpless people into the mainstream of the society and development. My only dream is to popularize para football in Bangladesh as well as South Asia, to develop this sport, which will indirectly lead to overall sustainable development."
Para Football trustee Sam Turner is delighted to see the development in Bangladesh:
"Since the CP Football course we delivered in December 2018, it has been a real honour to support the fantastic work of Md. Badiuzzaman Al-amin. He is an inspirational advocate for the rights of persons with disabilities in Bangladesh, and has work tirelessly to create football for all. Where some more developed countries make excuses, he is making it happen and has made a real difference. Congratulations to Bangladesh Para Football Federation, we are so proud to have you as an Affiliate FA."
Bangladesh Para Football Federation (BPFF)
Bangladesh Para Football Federation is the national body of Bangladesh Para Football, working in partnership with the Bangladesh Football Federation (BFF) and National Sports Council.
The Bangladesh Para Football Federation brings together the associations governing each type of football and leading the respective national teams. The BPFF is also supporting the recognition and creation of further associations to ensure football for all in Bangladesh:
Bangladesh Cerebral Palsy Football Association (BCPFA)
Bangladesh Amputee Football Association (BAFA)