Learn.ParaFootball.com
Para Football have developed a new online learning platform to support the worldwide Para Football community to share experience, expertise and information.
To ensure #FootballForAll, we are working to empower people on all continents, countries and communities to learn about the game and make a difference for persons with disabilities through football.
Making it happen
We would like to thank the Adidas Football Collective for their support with co-funding through a grant to help make this happen.
The technical expertise behind the learning platform is AWESUM, who have given their time and support to create a tailored platform to meet the needs of our audience.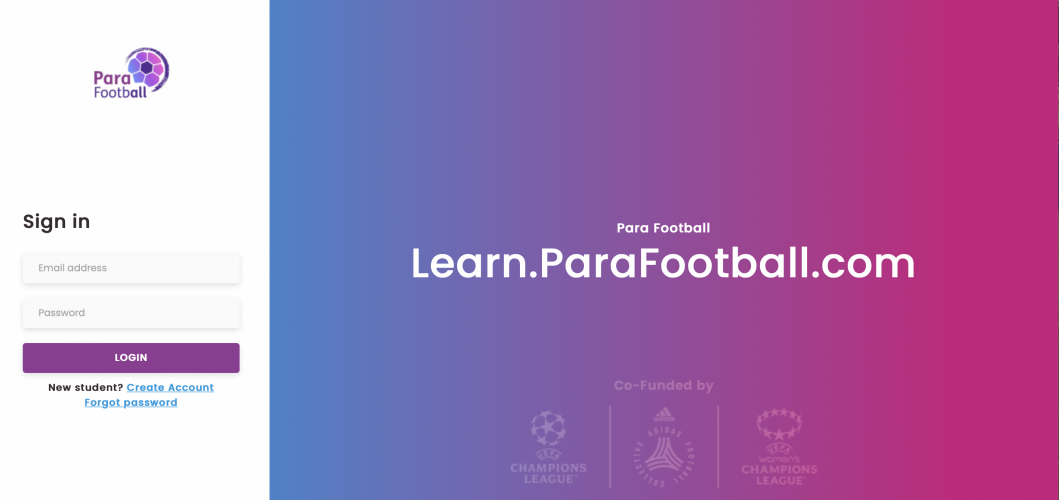 Stronger together
Through the collaboration of the International Federations (IFs), International Organisations of Sport for the Disabled (IOSDs), National Football Associations, Para Football Federations and our wider partners; this new platform provides a place to bring together learning to develop a better and more inclusive sport for all.
Henk van Aller, co-founder of Para Football believes the platform will make a positive difference:
"This platform will be the central spot for everyone involved or interested in football for people with a disability. Whether you are an athlete, coach, director or in any other way involved in the number one sport in the world, this is the place to learn about and get inspired to provide 'football for all'.
The joint approach of all international federations involved, is a milestone in the development of the accesibility to football on every level. It provides the knowledge and tools to deliver the game to everyone, no matter the impairment or the level of play."

Working together we empower our different stakeholders to utilise this shared resource to provide learning and development opportunities. We are planning to launch further courses in partnership with each International Federation as an introduction to each type of football, along with disability awareness courses with the IOSDs.
Supporting people to deliver #FootballForAll
Alexandros Karaiosif from Greece, a referee for blind football, amputee football and a physical education teacher shared:
"Refereeing Para Football gives you both the joy to be part of your favourite game in the highest level and the satisfaction to offer in the disability community.
Para Football Learning Platform, introduces the average fan/teacher/coach/referee to a world where football exists without limitations. Disability Football at its best."
Learning from you
We have taken the time to develop an online learning platform which provides worldwide education opportunities, maximising our reach and working to make learning accessible to all.
As a volunteer led non-profit foundation, we are working through partnerships, in-kind contributions and goodwill to provide a unique platform to support people in al roles of delivering Para Football.
Feedback received from participants will help us to continue to develop and improve the content, courses and platform itself, ensuring that we are meeting the needs of the Para Football community.
Get started on your Para Football journey
Visit Learn.ParaFootball.com now to get started and learn more about Para Football.