I'm just grateful to be able to play football again… grateful to have amputee football
Written by Charlie Tohme
Mark Smith, an amputee, shares the journey that did not stand against his love for playing football.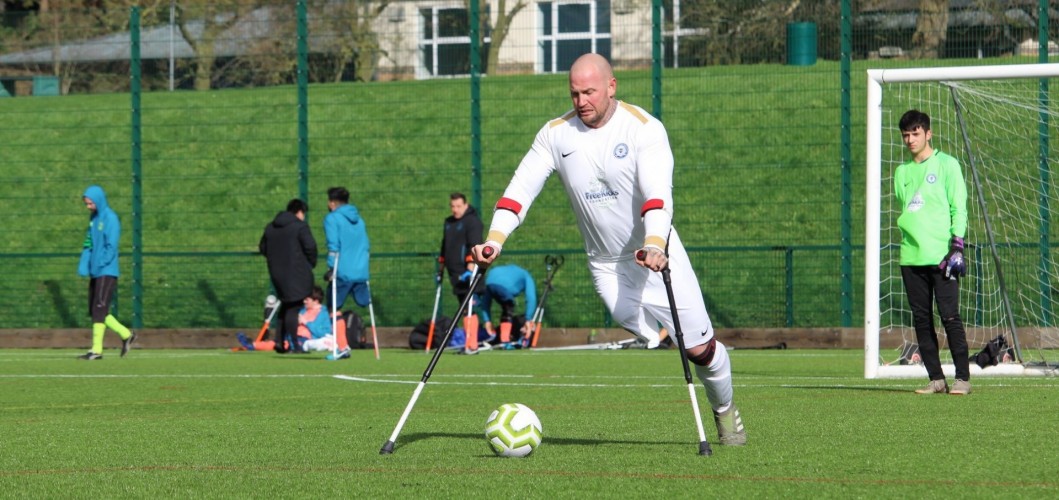 Smith enjoyed playing football since he was seven years old, even when he joined the army while serving in the First Battalion Grenadier Guards. He went on operations around the world, in Bosnia, Iraq, Kenya, Canada, and Afghanistan, etc. In 2011, by the time he was 26 years old, Smith had reached the rank of Lance Sergeant, which enabled him to be a weapons instructor and a section commander. He had no idea that a terrible accident was going to cost him his right leg.
That year, he was on a live firing range, a platoon attack range in Canada. They had about 40 soldiers with various targets, fixed wooden targets. "My role amongst the safety staff was to oversee the running of the range and to watch over the other soldiers, their skills, drills, and tactics," the 36-year-old says.
On the day of the accident, the section thought Smith was following a cleared bunker position while they were on to clear trenches and compounds to mirror how it would be in Afghanistan. When in to clear the first room, the young man was on the wall side, and the other soldier was on the other side. "I was hit several times with a light machinegun," Smith says, "so I took six gunshots to my leg and one shot to my shoulder."
The gunshots to Smith's leg had hit a femoral artery, so a person has got about four minutes before they completely bleed out and die. "Thankfully, I was working with some excellent blokes that day, very experienced people who treated me effectively and quickly," he says.
However, the young man flatlined on the way to the hospital; he had no heartbeat, no pulse for over five minutes. Smith needed to be resuscitated on more than one occasion and spent a few days on life support before the decision was made. "The leg had died at that point, and it was starting to cause me organ failure, so it didn't leave me with much choice but to have it amputated," the young man says.
The amputation was mid-thigh, above the knee; following that, he was airlifted back to England. He spent nine weeks on a military ward in a hospital where the young man was in and out of fear to rip his shoulder and leg. "In total, I think I've had 27 operations," he says. Eventually, he was medically discharged in 2013 from the army after ten years of service, after two years of rehabilitation.
"With losing my leg, I knew I would lose my managing career, but also, the thought of not playing football again ate away at me," the football player says. He witnessed those who had cases similar to his were all walking on prosthetic legs; so, he was confident that he would walk again. But not being able to play football and not serving in the British army anymore devastated him.
He wasn't aware of amputee football at that time, but while staying positive and being on a military ward, he was surrounded by soldiers flown back from Afghanistan who were a lot worse off than he was. By comparison, Smith's injuries seemed minimal. "All of the lads in the ward were upbeat and positive; we all sort of helped each other, and that was good for having a different perspective on my injuries," he says.
Smith took several different routes before eventually finding his way back to football. He competed in bodybuilding for 18 months; then competed in disabled strongman for four years. "I always thought I was going to come back to football," he says, "I never stopped missing playing."
After discovering and entering the world of amputee football, he learned the rules and started playing. In his first season, he joined Peterborough United and won the English league. Shortly after that, he was awarded the club player of the year.
Smith now plays for West Bromwich Albion Amputees. He met so many people from all different walks of life throughout his experience in playing amputee football, people who have had motorbike accidents, diabetes, and other servicemen. "Just listening to what they went through really makes you self-appreciate; it's an eye-opener," the 36-year-old says, "They're 17 and 18 years old, and even though I'm older than most, I'm learning so much from them. They're amazing footballers."
You can check the rules of amputee football by clicking here
Now, Smith is dedicating himself to improve as much as he can as an amputee footballer, and he wrote a book. The young man wants to do as much as he can. "I just want to remind myself of the fact that I'm still here, and I want to make the most of it," he says, "I'm just grateful to be able to play football again… grateful to have amputee football."
He hopes that in the long run, all types of football get the recognition they deserve. Disability sports are changing people's perspectives about persons with disabilities; they can do so much more than they're credited with.
"It's funny how now it's the best time to get a disability because there are so many avenues to excel in, especially with football. There are so many opportunities to continue playing the game; there are not many disabilities that keep you away from getting into a football pitch. The best is yet to come, and that's fantastic," says Smith hopefully.
If you would like to find out more about Mark and his book, please click here